I was raised attending church in Georgia, an

d in my last year of high school I made a personal commitment to Christ. After graduation I went on to study engineering at Georgia Tech in Atlanta, Georgia. While there I was discipled by another student who was involved with the Navigators, a campus Christian organization. After college I went on staff with the Navigators and served two years in Germany at the University of Bonn. In 1981 I married Wendy Squires from Myrtle Beach and we served together in the Navigator ministry at the University of South Carolina. In 1986, after a year in Costa Rica learning Spanish, we moved to Buenos Aires, Argentina where we worked with students and in church discipleship for 16 years. We have four grown children, and currently serve in Columbia, SC with the Navigators in the area of church discipleship.
How did I get interested in God and all that? Glad you asked! Let me tell you my story: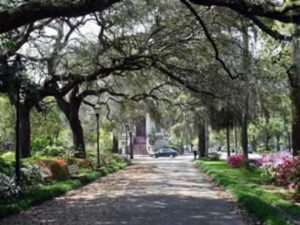 I was raised in Savannah, Georgia. It's a very pretty city with old colonial houses and long streets lined with big old oak trees that have lots of Spanish moss hanging on them. Savannah's on the coast and our family often went boating on the inland waterways. We caught and cooked lots of delicious crab and shrimp in those days. I had great times climbing trees and building tree forts with my cousins. I even went shark fishing once with my older brother.
In high school I was an average student and I enjoyed playing tennis on the tennis team. I tried out for basketball but never got good enough to really play on the team. A lot of my time was taken up with many hobbies. I would start new pursuits with great enthusiasm, such as collecting coins and stamps, miniatures and bayonets. But always after a while I would get tired of it and move on to something else. In fact my room was filled with unfinished models and collections and books. Nothing seemed to satisfy me for very long. I really couldn't identify any purpose for my life and I didn't know what to do about the guilt I felt for the things I had done that I knew were wrong. My family took me to a psychologist but he wasn't much help. Our family attended church very regularly but I grew increasingly bored with it and I wished I didn't have to go. I didn't know if God was there or not, but it didn't seem to matter much either way. I figured either He didn't exist or He was so far away that I couldn't get to know Him anyway.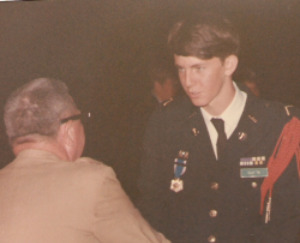 In my last year of high school I went off to a military boarding school in another city. One day a fellow student invited me to a youth meeting in the home of his pastor. Not wanting to offend him, I decided to go once, even though I knew I wasn't interested and wouldn't like it. To my surprise there was a large group of young people my age there, seemingly of their own free will. They were singing with great gusto and joy, and seemed to be very excited about this God who I wasn't even sure existed! After a couple of weeks of watching them I decided that maybe there was a God. During my time there I learned that all people have messed up in their lives and done things they knew weren't right. The result of this according to the Bible is death forever. But God loves me so much that He sent Christ into the world, and He died on the cross to pay for my sins. By receiving Him in to my heart I could be forgiven and have everlasting life. So one night during the singing I talked to God in my heart and asked for Him to come in to my life.
The first change I noticed was that I stopped cursing almost immediately even though no one had told me it was wrong. To the best of my knowledge I only slipped up once a few weeks after that and God seemed to have just taken away my habit of cursing completely. Even though I used to find that all interests and hobbies soon lost their appeal, my new interest, my personal relationship with God, just grew more and more exciting and challenging as time went on. And even though I still enjoy various hobbies, I no longer look to them as the source of meaning for my life. Even though I still mess up some times, Christ is more and more the center of my life, and has given me more joy and peace than I ever thought possible. But really the greatest thing to me is knowing for sure that when I die I will spend eternity with Him in heaven.