Thoughts on God as our Father…
June 27th, 2009 by Henry Clay
Here is an old devotional thought from 1985:
It's a lot of fun having a son. When I was about to come in from my devotions the other day I heard him (Walt, 1 ½ yrs) calling, "Daddy!" as loud as he could, expectantly. How it melted my heart. I wanted to see him so badly. If that's how God "feels" when I call upon Him and want to see Him, how foolish for me to fear His displeasure or inattention.
Walt and I walked through the dark part of the hall last night holding hands. By himself he often gets scared and cries out in that passage when it's not lit. So many doors and no one in sight. But holding my hand he wasn't afraid at all. When we arrived at our well lit bedroom, without saying a thing he yanked his hand back and went running off to play. But when we were in the dark, it made me feel so good to hold his hand and give him security. God delights in holding my hand in the dark places, but maybe I'm too quick to pull my hand back when the lights go on.
Does my son know me? He hasn't read any books about me. He can't draw me. He doesn't have a notebook full of information about me or quotes from me. The only things he quotes me in are words that everyone uses every day (more, please). We haven't been acquainted that long, only 1 ½ years. He doesn't always try to please me. Maybe he doesn't know me.
But when I go to get him from preschool and call to him to let him know I'm coming he starts pointing and saying, "Daddy!" and giggling and getting all excited. He's content and happy with me near, when the others won't do. He knows which tone of voice I use that means no fooling around. Sure, he will know me better through the years. But right now he knows my voice, seeks my face, loves my presence and accepts my reproof. Will I love him any more when he knows me better or can carry more responsibilities? No. He's my son and I love him.
How wonderful to think of my relationship with God in these terms! How He loves me to seek Him, however weakly. I'm His son and His love for me does not grow or diminish with the years or the victories or the defeats.
What can I learn about God being my father? What are some key verses?
Matt. 5:44, 45 Love your enemies and pray for those who persecute you – so you can be like your Father.
– God loves His enemies, has goodwill toward those who try to hurt Him. He sends the sunshine and rain to friends and enemies alike, out of love.
Matt. 6:4  My Father sees me in secret when I give secretly, and He "repays" me if His is the only pay I'm looking for.
Matt. 6:6  My Father sees me pray in secret and "repays" me. He "blesses" or affirms right behavior in me.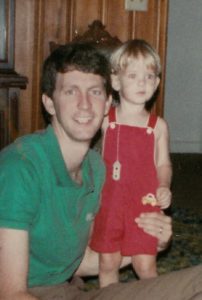 Matt. 6:8  My Father knows my needs completely, before I tell Him any of them.
Matt. 6:15  If I do not forgive men (not just Christians) my Father will not forgive me (it's not a 'permissive' love)
Matt 6:32  God knows all the things I need for my life and will give them to me if my priorities are right.
Matt. 7:11  Your Father gives good gifts to you when you ask Him.
Is. 64:8  Thou art our Father… we the clay… Thou the potter… God takes responsibility for "raising" me.
Ps. 103:13  Just as a father has compassion on His children, so the Lord has compassion on those that fear Him. For He Himself knows my frame and is mindful that I'm only dust.
Mal. 3:17  I will spare them as a man spares his own son who serves him.
Rom. 8: 14, 15  All who are led by the Spirit of God are the sons of God. For you have not received a spirit of slavery leading to fear again, but you have received a spirit of adoption as sons by which we cry out, "Abba, Father!"
Jer. 3:22  Return oh faithless sons, I will heal your faithlessness.
Heb. 12:5-13  God disciplines His sons for their good that they can share His holiness.
Deut. 8:5  The Lord was disciplining you as a man disciplines his son.
II Sam. 7:14-15  I will be a father to him and he will be a son to me. If he sins I'll correct him with the rule of men, but my loving-kindness shall not depart from him.
II Cor. 6:18  And I will be a father to you, and you shall be sons and daughters to me.
Is. 43:6-7  He created His children for His glory.
Posted in Relationship with God